The smaller and more versatile USB-C ports are becoming the new standard in laptops. This is great for making thinner and lighter-weight laptops, but how do you connect all of your old USB-A peripherals like your mouse and keyboard? Enter a USB-C hub. By connecting a hub to your USB-C port on your laptop, you open up a world of connectivity. Hubs allow you to not only connect your USB-A peripherals, but also your HDMI connections, SD cards, or they simply just add more USB ports.
There's no shortage of USB-C hubs featuring a whole range of combinations of modern and legacy ports, so it shouldn't be a problem to find the right hub for your needs.
We've tested numerous USB-C hubs and compiled a list of our favorites. We discuss not only the port options available with each hub, but also lesser known details you won't find from the manufacturer's description, such as whether there is adequate space between the ports or if the hub runs hot during use. You can also check out our recommendations for the best Thunderbolt docks—essentially an upgraded version of a USB-C hub. We explain those differences as part of our buying advice, which you'll find below our product recommendations.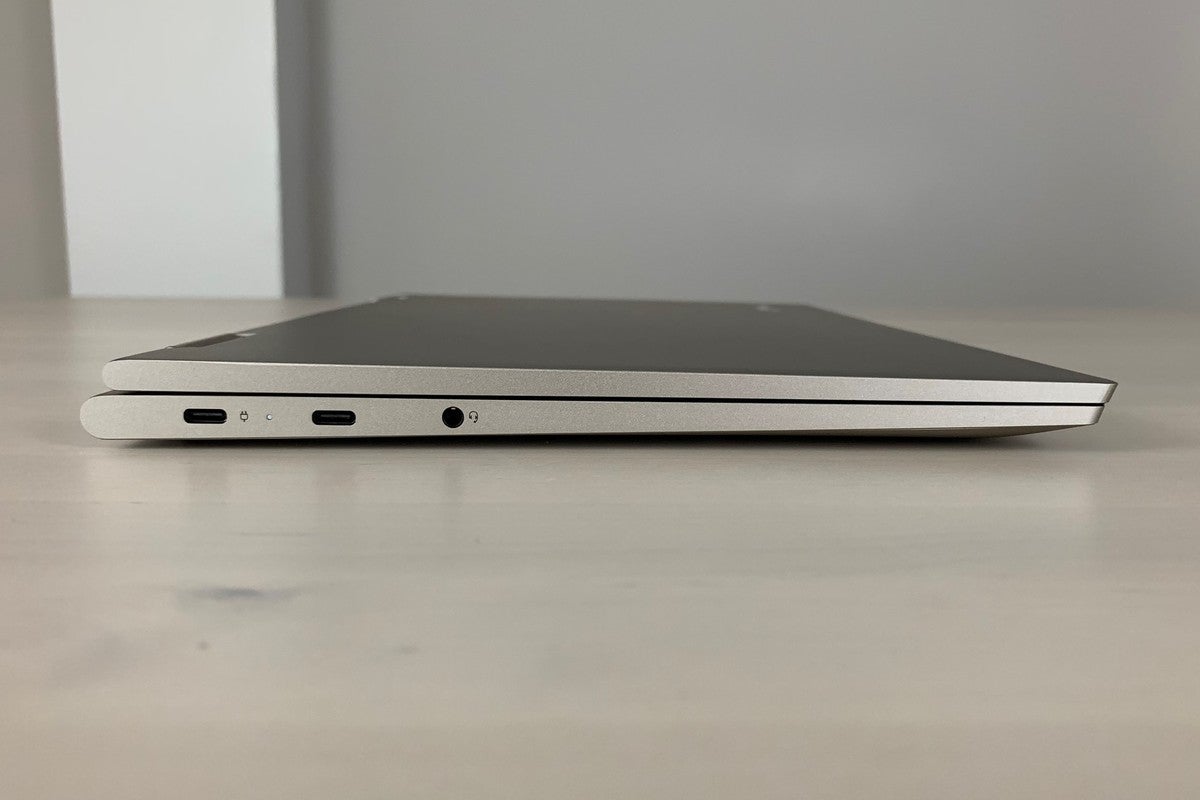 The best USB-C hubs
Anker 7-in-1 USB-C Hub (A83460A2) – Best overall USB-C hub
Pros
Good value for the money
Excellent build quality
Supplies 85W of power
Good mix of legacy and newer ports
Can a USB-C hub feel elegant? This one does. Anker's 7-in-1 USB-C hub feels surprisingly weighty (3.5 ounces), with a premium metallic (aluminum and polycarbonate) sheen. It's also a bit more expensive than its rivals. Anker's hub was among the coolest we've tested under load, at about 87 degrees.
Overall, Anker's hub is well designed, with adequate spacing between the two 5Gbps USB-A ports. There's also a 5Gbps USB-C connection for data, plus a second USB-C port for power input at up to 85W rated. (The charger allows up to 100W in, but supplies 85W.) An HDMI port allows for 4K/30Hz video or 1080p/60Hz video to a single external display, standard for the category. Ethernet is excluded, however, so you'll need to use Wi-Fi instead. Cord length is about 8.5 inches, above the standard 6-inch length.
Anker's hub was among the fastest we tested to deliver data under load, including simultaneous data transfer between USB-A ports while the SD ports were active. The hub offers an 18-month warranty, and it even ships with a carrying pouch. 
We recommend not buying the more expensive $79.99 Anker 8-in-1 Hub on Amazon unless you're happy connecting to two 1080p (and not 4K) displays…which is perfectly fine. Otherwise, the two HDMI ports will only support two 4K displays at an eye-wearying 30Hz, not 60Hz.
Yeolibo 9-in-1 USB-C Hub (RU9A) – Best value USB-C hub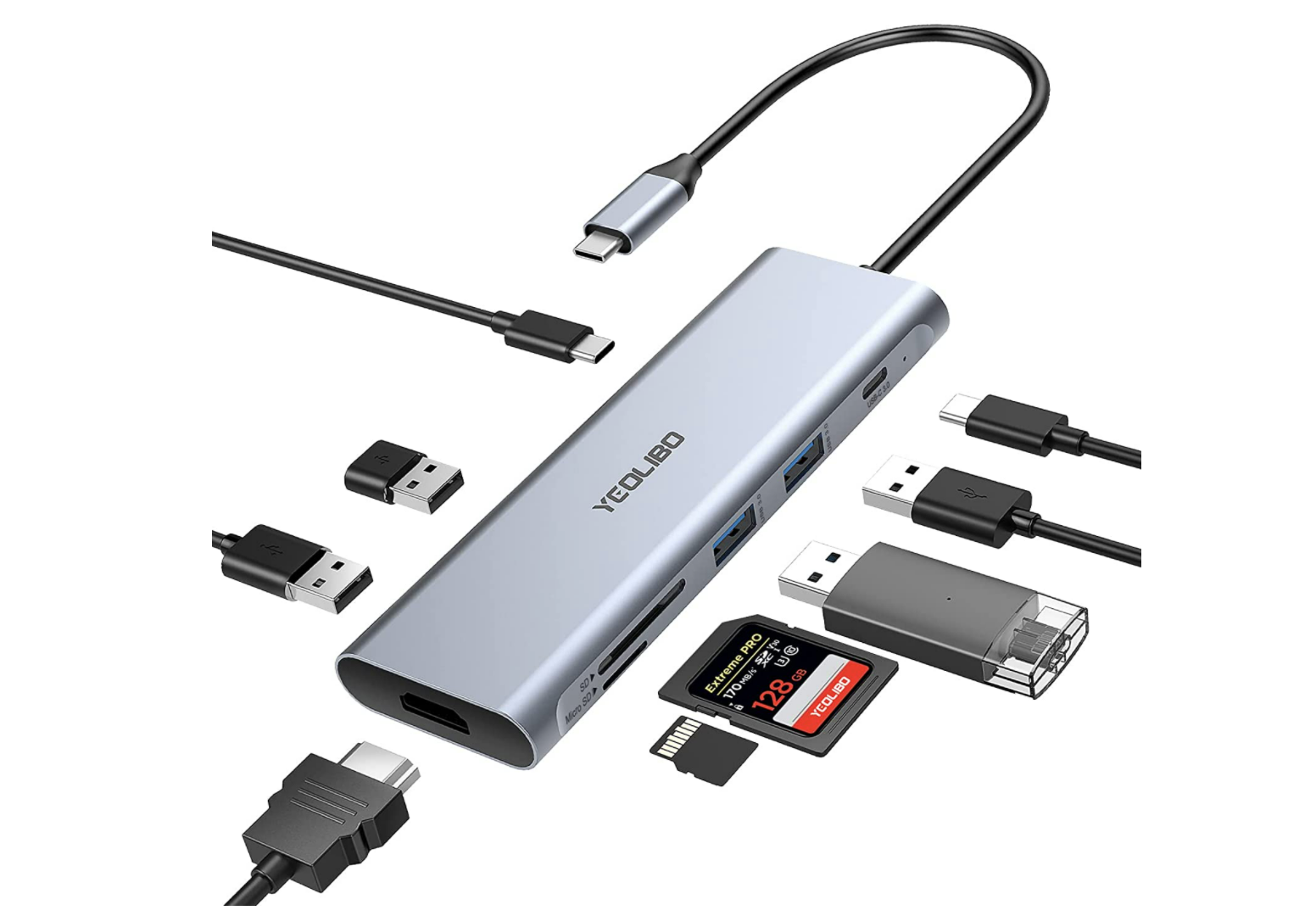 Pros
Incredible price (at press time) and value
Yeolibo may not be a name you recognize, but this USB-C hub is impressively detailed, with a small but extremely informative manual, clearly labeled ports, and well-rounded functionality.
This hub offers three USB 3.0 (5Gb/s) Type A ports, one USB 2.0 Type A port, a USB-C (5Gb/s) port, a USB-C PD charging port rated at 100W of input power, and an HDMI port. There are also microSD and SD slots capable of SDXC cards up to 2TB and SDR25 (25MB/s) data rates. There's no ethernet connection. The USB-C cable measures a comfortable six inches, though the connector at the end was a little stiff and took some fiddling to insert.
We didn't have a 100W USB-C charger on hand to test, but the hub accepted 62.5W from our 65W USB-C charger. It stayed cool throughout. The hub played back protected content via its HDMI port, as expected, but dropped more frames than we hoped for when playing back 4K content over YouTube. (Only 4K30 resolutions are supported, but that's not unusual.)
QGeeM 7 in 1 Type C Hub – Best value hub runner-up
Cons
No apparent warranty
Customers have complained of overheating
The QGeeM 7-in-1 Hub I received tried to buy me off with an in-box promotion that promised a $10 Amazon card if I left a positive review. But I didn't need to be bought off to appreciate this compact, lightweight little hub that covers all the basics, save ethernet.
The three USB 3.0 ports are adequately spaced. An HDMI port at the end of the dock supports a single 4K display at 30Hz (or 1080p at 60Hz)—par for the course with a typical USB-C hub. QGeeM's hub includes support for both SD and microSD slots, using the older, prevalent UHS-I SD card standard. Both cards share the same controller, allowing them to be used one card at a time. QGeeM's documentation varies on how much power it can provide; Amazon's page says it can accept 100W (3A) and supply 85W, though the in-box documentation says 60W. The latter is correct. Nevertheless, a USB-C charger connected to the port reported that it was charging adequately.
Under load the hub warmed to about 94 degrees, a comfortable temperature. (Some customers have complained that the hub gets too hot and will shut down, but we didn't see this.)
QGeeM doesn't seem to offer warranty support, and the packaging skimps on niceties like a carrying bag. But this lightweight hub offers everything else a typical user will need, and for a great price. 
Lention USB-C Hub with 4K Output (CB-C35sH) – Best value USB-C hub with 4K/60 output
Pros
Worked flawlessly
4K HDMI output at 60Hz
Cons
Feels a bit cheap
No SD/microSD slot
Lention's CB-C35sH feels a little cheap out of the box, with a bit of a rattle that indicates a corner or two were cut in the construction. It worked flawlessly, however. This USB-C hub is slightly wider than most, with a power input rated at 60W next to a HDMI 1.2 input (allowing 4K resolution on an external display, at 60Hz) that allows protected content to be played back with no problems. (Power input only reached 55W in our tests.) The entire hub remained cool, even with a charger attached.
In addition to the USB-C input port and HDMI output, there are four 5Gb/s USB Type A ports, and that's it—no microSD slots, ethernet, or audio connections. We would have liked to see the latter as an option for those who need it. But connecting a mouse and keyboard, as well as transferring data over the ports, worked well within the constraints of the USB-C connection.
Both our current overall top pick, the Anker A83460A2, and the Yeolibo 9-in-1 a are better overall options, with one exception: their HDMI output is only at 30Hz, which can fatigue the eyes over long periods. Lention delivers a more comfortable 60Hz at the same resolution. And if you have issues, Lention offers a 12-month warranty with a 24-hour support turnaround.
Lasuney Triple Display USB Type C HUB – Best compact full-featured hub
Pros
Incredible port flexibility
Cons
USB-C bus throughput won't allow all ports to be used simultaneously
Lasuney's 10-in-1 hub (two USB 3.0 ports, two USB 2.0 ports, two HDMI 1.2 ports (4K@30Hz), DisplayPort gigabit ethernet, microSD/SD, USB-C power input) offers a lot for your money, including an unusual mix of not one, but two HDMI ports, and even a DisplayPort. Thanks to ethernet support, the hub can replace many of your wired connections. Power input is rated at 100W in, with about 87W available to the laptop.
But the USB-C bus the hub runs on top of simply won't support all of the ports being used at once, which is a bit of a gotcha. While we really like the pair of HDMI ports for dual-display configurations, the fact is, you'll probably need to limit yourself to a pair of 1080p displays to avoid saturating the bus and slowing down the connection. Customers on Amazon have reported that they only got one to work, probably because the bus itself was saturated. The other problem we found is that the SD card slot is way too slow. It took twice as long to transfer data compared to other hubs we tested. In all fairness, our other disk-to-disk tests took about the same amount of time.
Lasuney's hub is well made, with good port spacing. It doesn't get uncomfortably warm, either. Just be realistic: We really like the flexibility that the Lasuney hub offers, but don't buy it thinking you'll be able to use everything at once.
AmazonBasics USB 3.1 Type C to 3 Port USB Hub with Ethernet (L6LUD001-CS-R) – Best basic USB-C hub
Pros
Simple, cheap, to the point
Cons
For a few dollars more you can add tons of additional functionality
The AmazonBasics L6LUD001-CS-R provides three USB 3.1 Type A ports plus gigabit ethernet to your laptop's existing USB-C port. There are no HDMI or charging inputs; this is merely an incremental step up from the AmazonBasics L6LUD012-CS-R, which forgoes the ethernet capabilities.
This hub is handy for those who don't have or don't trust Wi-Fi on the go. The lengthy 14-inch cord adds some flexibility to your desktop layout. The hub performed comparably to the others we've tested, and there weren't any issues with temperature or power.
At press time, the price was only $3 or so above the price of the aforementioned AmazonBasics L6LUD012-CS-R, which makes this a no-brainer if you just want a basic hub. Though the hub ships in both black and white, we noticed Amazon will occasionally discount one or the other by a few dollars. Honestly, though, the heated competition in the USB-C market means that the value this hub offers isn't as strong as it once was.
IOgear Dock Pro (GUD3C02B) – Best full-size USB-C dock
Pros
Best USB-C dock (not hub)
Supplies power to your laptop
Good display options
Cons
Takes up an enormous amount of desk space
Won't quick-charge phones
This is the Big Kahuna of USB-C docks—and, given what it does, you almost wonder why it wasn't made a Thunderbolt dock instead. At 2.9 x 11.02 x 0.5 inches, it's a thin, long, slanted wedge that props up your laptop with a grippy rubber strip. It's a true dock, with a number of rear-facing ports optimized for dual displays, with a foot-long USB-C cable to boot.
Specifically, there's three USB 3.0 (Type A ports), one HDMI 1.4 port for 4K30 video, one DisplayPort 1.2 port, gigabit ethernet, one SD/SDHC port and a microSD slot (both USH-I), VGA, a 3.5mm jack, and a USB-C port for up to 100W of external charging. Some of the additional ports come with some caveats: The VGA connection must be used solo, for example, and not in conjunction with either DisplayPort or HDMI. Remember, all that data passed along the USB-C cable can interfere with one another, but IOgear plays it a bit conservative; the manual says that two hard drives can't be connected simultaneously, but that's not true.
Be advised that the BC 1.2 port provides up to 1.5A of power for quick-charging phones, though the port isn't compatible with the specialized quick-charging schemes of OnePlus or Samsung. (Phones from both manufacturers reported "charging" when connected, rather than "Fast charging".) Thermal issues weren't a problem, and performance was surprisingly good, even with HDMI and ethernet connected. The doc supports Power Delivery 3.0 up to 85W, and consumes 15W by itself; in other words, if you have a 100W laptop charger feeding power to the hub, 85W will be left over for your laptop to use.
A price of about $125 or so is way more than you'd expect to pay for a USB-C hub, but it's still less than a higher-speed Thunderbolt dock. Still, this USB-C hub is more of a USB-C dock; it's not really portable, and the form factor lends itself to a permanent spot on your desk.
Plugable UD-6950H USB 3.0 Dual 4K Docking Station – Best full-size USB-C dock runner-up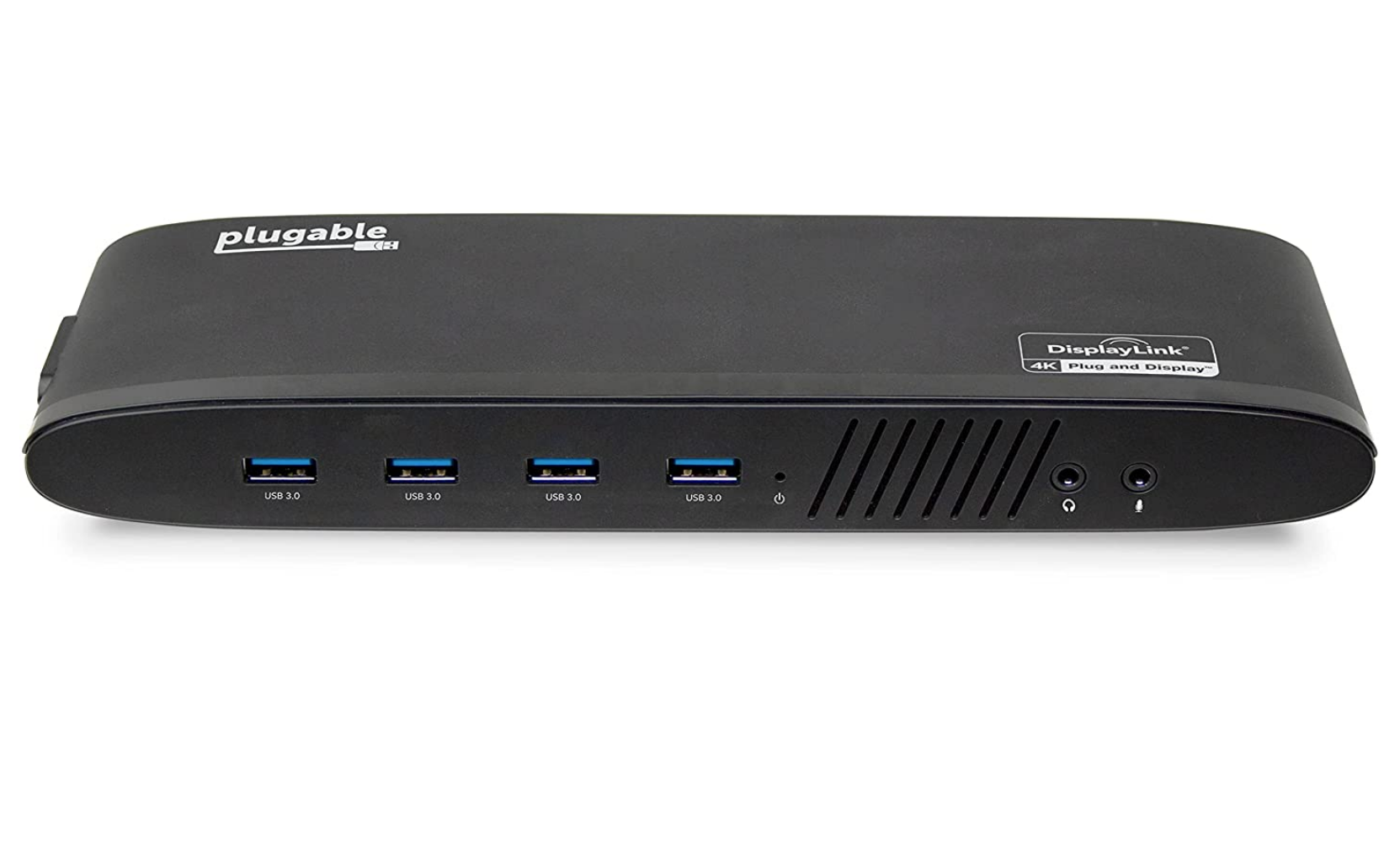 Pros
An alternative full-sized USB-C dock
4K/60 video is supported
Cons
Bulky
DisplayLink connection requires a driver
Enormously expensive
No power delivery
This powered USB-C dock measures 3.25 x 9.5 x 1.25 inches, with a 3-foot USB-C to USB-C cable (or USB-C to USB-A), with four USB 3.0 (5Gbps) ports on the front and two more on the rear. Display ports are plentiful: two HDMI 2.0 ports and two DisplayPort 1.2 ports, allowing either a single 4K display at 60Hz or two at 30Hz. There's gigabit ethernet and a headphone jack, too.
You'll need to install a DisplayLink driver, which is a slightly different interface that runs over USB-C. The dock doesn't supply any power to the laptop itself, another black mark. But the inclusion of DisplayPort and its HDCP capabilities means you can watch Netflix, and in 4K if you'd like. But all that data streaming over a USB-C connection also means that video playback is going to be stuttery. Nearly $180 is a ton of money to spend on a dock, too, though it comes with a two-year warranty.
As we point out below in our buying advice, the USB-C connection will be what limits this dock, not the dock itself. For a smoother connection, invest in a Thunderbolt dock if your PC supports it.
Lenovo USB-C Travel Hub (GX90M61235) – Best hub for VGA displays
Pros
Just the basics, including VGA
Lenovo's GX90M61235 USB-C travel hub retains the same black, boxy aesthetic as generations of ThinkPad laptops. The odd pairing of connectors—VGA, HDMI (4K at 30Hz), a single USB 3.0 port, and gigabit ethernet—means you'll be using your laptop's keyboard, possibly a mouse, and either display connector. We'd rather see Lenovo pick either VGA or HDMI and add another USB port.
To be fair though, all of the ports performed as expected and there was no perceptible heat increase when we tried to saturate the ethernet link and USB-C port simultaneously.
There are better deals elsewhere, in terms of price and ports. But if you need a VGA connector, this is one of the few options available.
RSHTECH USB C Hub Powered 4 Port USB Splitter (RSH-516) – Best hub for external hard drives
Pros
Push-button on/off switches are a rarity
For external hard drives that spin up and down, button control is great
This Rshtech RS-516 USB-C port splitter uses an unusually long 2-foot cable to split a 5Gbps USB 3.0 input (over USB-C) and divide it among four USB 3.0 Type A ports. It's also uncommon to see those ports controlled by LED-lit button switches, and an optional 5V/2A adapter powering the whole affair.
The port splitter takes the 5Gbps input and splits it among the ports, which are only active if the corresponding LED-lit button is depressed. This applies to both power (the hub will charge, though not fast-charge phones) and data. Port spacing isn't an issue, and the ABS/aluminum construct handles heat well.
The Rshtech hub wouldn't always identify and connect to a bus-powered SSD, but it found every other device we connected to it. The performance of a powered external hard drive plunged to about 20 percent when all ports were occupied, but surged to about 67 percent when the optional power cable was plugged in—which Rshtech recommends when connected to external storage.
That cable (with a proprietary plug) is a pain, and the issues finding our SSD gave us pause. But we really liked how the hub allowed us access to and control of external hard drives, which spin up and down loudly and randomly.
OWC USB-C to Dual HDMI 4K Display Adapter -Best hub for dual 4K displays
Pros
Allows for two 4K displays
Pass-through power, too
Cons
It does nothing more than add displays
There are much cheaper options to simply add support for two 1080p displays to your laptop, such as the (awfully named) $40 Selore&S USB-C adapter, which includes a pair of HDMI ports and nothing else. So why buy this $119 OWC device instead? It's really one of the few ways to connect to at least one 4K display using a USB-C cable.
For one thing, it's cheaper than the Plugable UD-6950H above, which contains dual HDMI and DisplayPort ports plus some additional I/O. OWC's adapter simply provides two HDMI ports and a passthrough USB-C port, which allows you to plug in a 90W USB-C charger and charge your laptop. OWC's adapter requires you to download DisplayLink drivers, then adjust your Windows display settings to re-enable 60Hz refresh rates one one display. (only 30Hz is allowed on the other.) Sound like a pain? It is, but that's what happens when you try to force a pair of high-definition displays across a bus that wasn't really designed for them.
IOGEAR Travel Pro USB-C Mini Dock (GUD3C460) – Best compact USB-C dock
Pros
One of the smallest docks on the market
Minimizes desk clutter
At 2.8 x 0.31 x 1.22 inches, IOgear's Travel Pro Mini Dock is an odd duck: an inexpensive, relatively tiny USB-C dock that plugs directly into your laptop, without a connecting cord.
"There's no way this will work," you might think—but it does, with just enough room for your laptop's USB-C charger to sneak in one side of the dock, next to an HDMI cord, then a USB key or cord, and a 3.5mm jack. (The Mini Dock supports up to 60W of power in from an external charger.)
That's fine, of course, if your laptop's USB-C port is all by its lonesome. Otherwise, the Travel Pro Mini Dock will block ports as it tries to offer expansion capabilities—and that's a problem for laptops like the Asus ZenBook, which forego a 3.5mm headphone jack but cram their USB-C ports too close together to make IOgear's dock feasible.
We like the idea, but there are cheaper, better docks out there with more flexibility.
How to choose a USB-C hub
First, take stock of your peripherals
Here's where to start: Take a look at the peripherals you own, or plan to buy. Do you have an old external hard drive that uses a traditional USB-A cable? Do you manually back up photos from an SLR via its SD card? Or is your Wi-Fi connection unreliable enough that you'd prefer ethernet? Figure out what ports you'll need. This advice is also for Windows users; Macs have their own limitations on USB-C connections.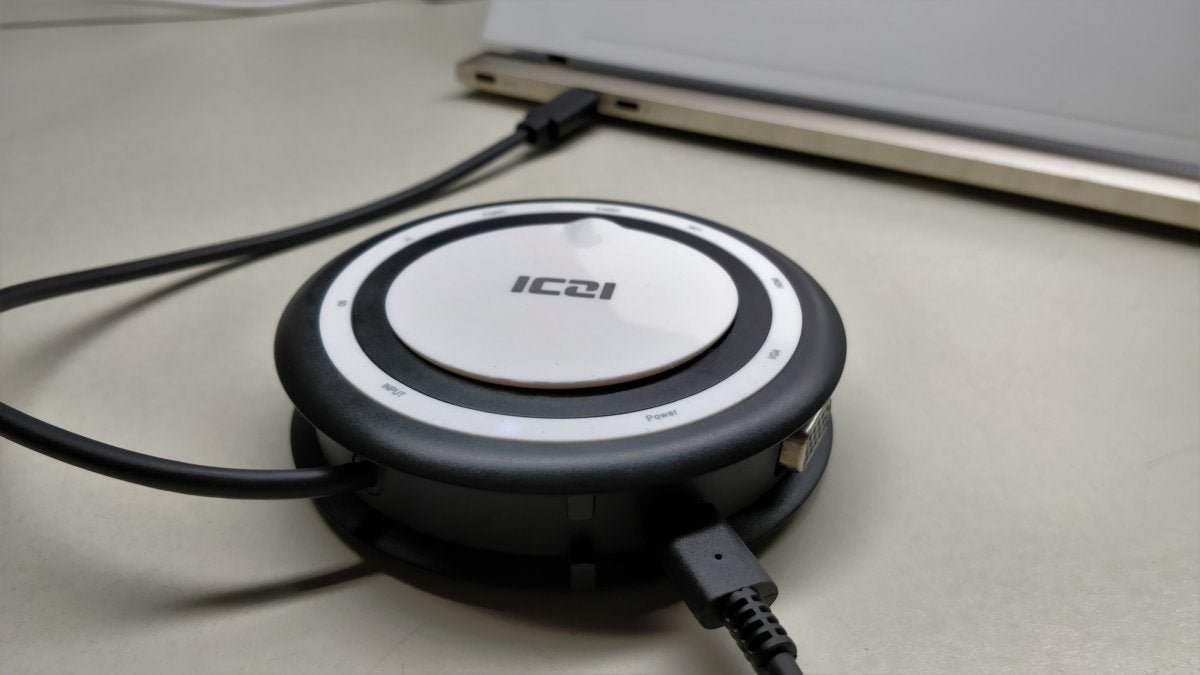 Next, check out what ports your laptop already has
It's also important to take stock of your laptop or tablet's ports: Does it have one USB-C port or two? If your device only has one port, is there a separate charging connection? If your laptop or tablet has a USB-C port and uses it exclusively for charging, you'll want to buy a USB-C hub with a dedicated charging input port. (In this case, it's also possible that only the charging port on the hub will work, though this isn't typical.) Note how much input power it allows, and confirm that will be sufficient for your laptop. Otherwise, you'll be forced to choose between charging your laptop and accessing other devices, which makes little sense.
Assess your laptop and peripheral power needs
Keep in mind that the hub's power port is for taking power in to your laptop, and not out to a phone. But your hub may still be able to charge your phone, with some caveats. A "bus-powered" USB hub connects to your laptop and pulls power from it, which it has to share with several devices. A powered USB dock will take power from the wall, route it through your hub, and share it with any device connected to it. These devices will make more power available for fast charging your phone. (Your hub won't enable specialized charging like the Samsung Galaxy S20's Super Fast Charging, however, even if you use the supplied Samsung cable. You'll still need to connect your phone to its charger for that.)
Consider a Thunderbolt connection if available
Some newer, pricier laptops now come with Thunderbolt connections, which offer a greater amount of bandwidth than a traditional USB-C connection. If this is the case, consider buying a Thunderbolt dock instead. A USB-C port typically provides 5 or 10Gbps, while USB-C with Thunderbolt typically provides 40Gbps. (Consult your owner's manual or the published specifications of your laptop if you aren't sure.)
The bandwidth difference matters more as more devices are attached to the USB-C hub. For low-bandwidth devices like a mouse or a keyboard, bandwidth will never be an issue. External storage shouldn't be, either. But a USB-C hub with a display, and Ethernet, and external storage, and a mouse and keyboard all attached to it may clog the USB-C port. In the real world, that may mean slower data transfers from an external hard drive, or stuttering when playing a high-definition YouTube video. Normally, we'd think that is the fault of the PC. In this case, it's not — it's all of that data flowing through the USB-C port.
Seriously, take this "don't let your eyes get bigger than your stomach" advice to heart. We were sent a Plugable USB-C Triple 4K HDMI and DisplayPort Display Horizontal Docking Station (UD-6950PDZ) for review, which supposedly supports three 4K displays, Ethernet, and six USB ports, all running over a standard USB-C connection. Even with DisplayLink software compressing the video stream, that's just way too much to run over a generic USB-C connection. Two or three 1080p displays will be a better choice.
You can get around this, in part. Instead of using a dedicated Ethernet connection, you can use a separate Wi-Fi connection instead. The main exception is displays. USB-C delivers enough bandwidth to drive an external 1080p or 4K display, even two (provided your hub has a pair of HDMI or DisplayPort connectors). But while USB-C can drive a pair of 1080p displays at a good 60Hz, it can only run 4K displays at 30Hz, which can be fatiguing on the eyes. So simply keep that in mind when considering a USB-C hub or dock.
Remember, you'll need to own or buy a Thunderbolt-equipped laptop if you want more bandwidth. Again, the general reason to prefer Thunderbolt over USB-C are a desire for higher-resolution displays: if you want to run at 60Hz with your 4K monitor/s, you should choose from our roundup of the best Thunderbolt docks. If you pursue this route, pay attention to details: You'll need to ensure the dock and monitor support Dual-Mode DisplayPort 1.2 (DP++) ports, and the HDMI ports are rated at HDMI 2.0. (The vast majority already do.)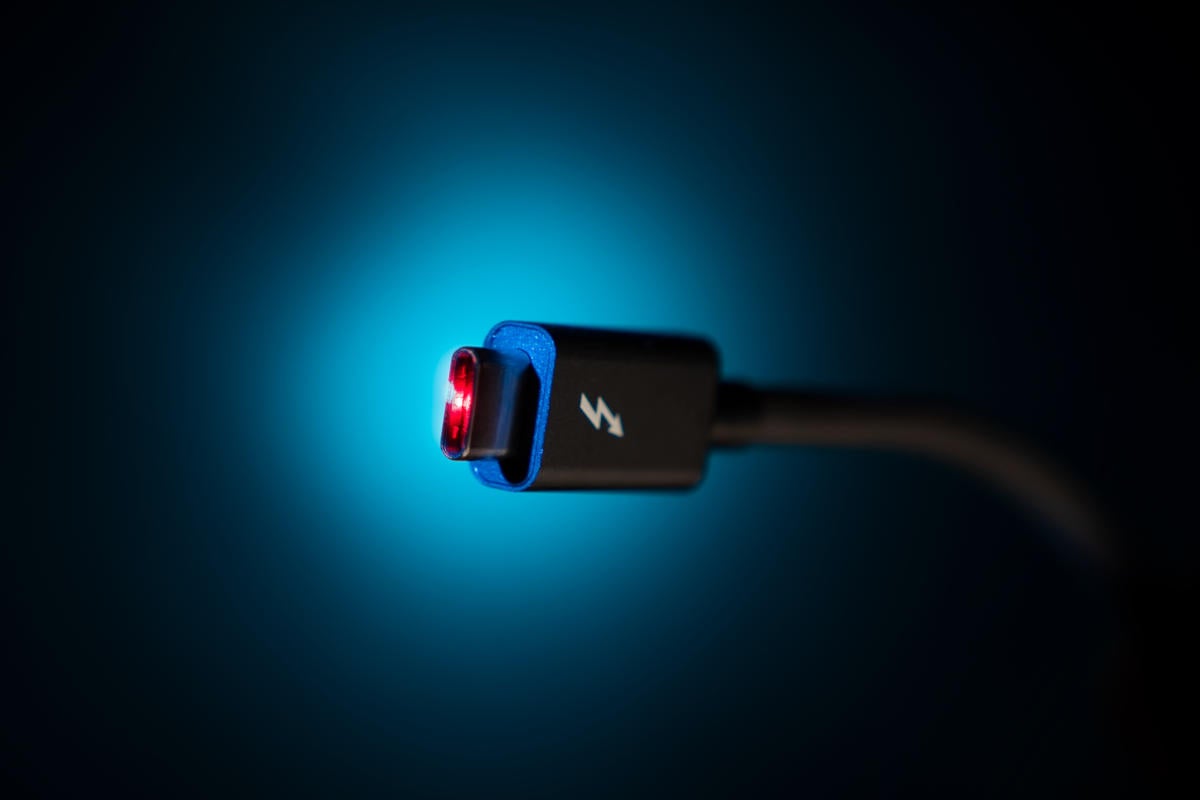 Finally, don't worry about platform branding
Because USB-C is common among Macs, Windows PCs, and phones, some hubs align their branding with a particular platform. Go ahead and use that USB-C that's billed as being "for MacBook Pro, Chromebook, and XPS" with any Windows PC—we did, and it works just fine. You won't need any special software or drivers. 
How we test USB-C hubs
We used bus-powered peripherals to test each hub: an SSD, a hard drive, and a rewriteable DVD drive, all to make sure enough power was being delivered. We also ran speed tests on those hubs with ethernet connections, just to detect any anomalous results. We performed spot checks with other peripherals.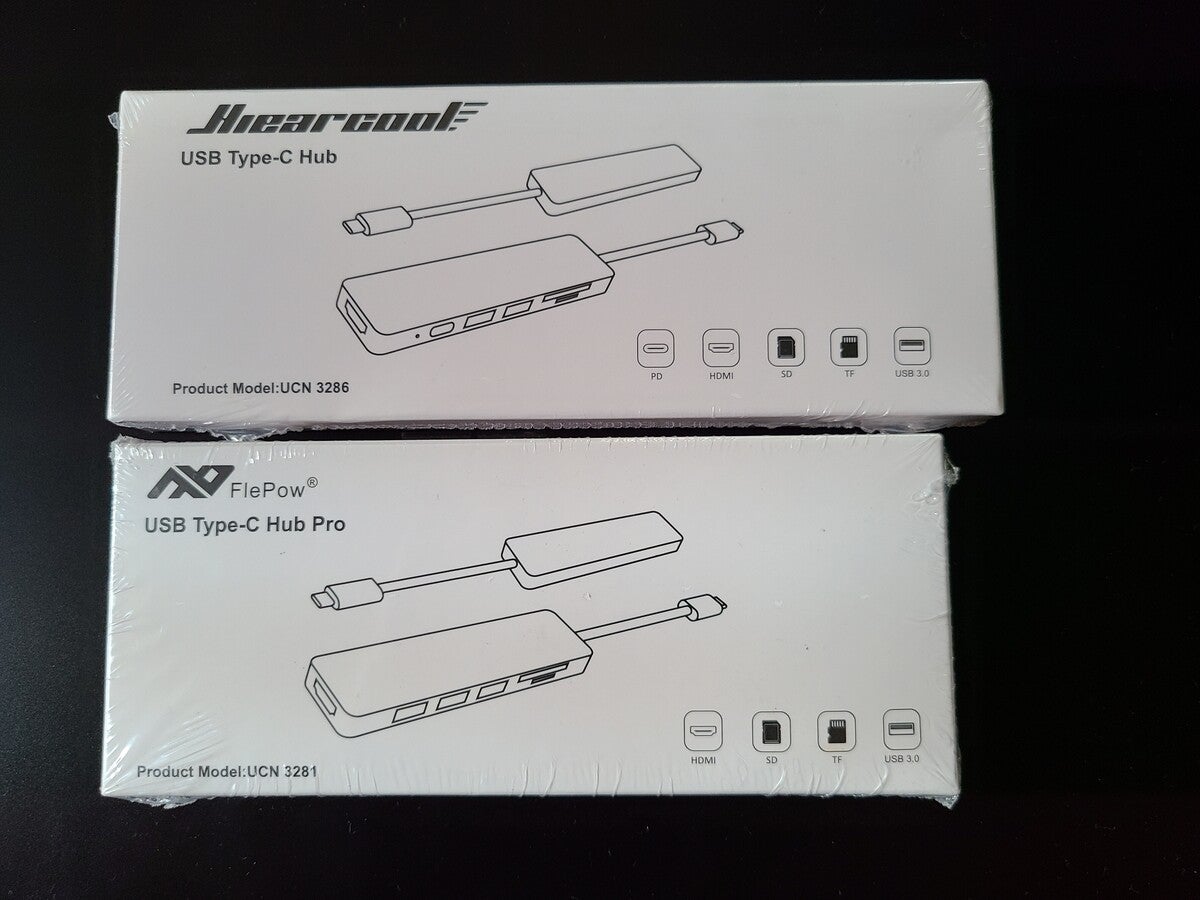 We conducted standardized tests to transfer a file from the SSD to the laptop; from the hard drive to the SSD; and then from an SD card to the PC, while simultaneously transferring files from the hard drive to the SSD. In some cases we used AJA's System Tool app to run read and write tests on connected drives. In almost all cases, the performance was identical, with a spread of about 3 percent—good news for you, as that's one less thing to worry about. 
We measured the surface temperature while these tests were run. You'll see some buyers on Amazon pages complaining about how hot a hub gets; some do get on the warmer side. Also, where we could, we measured the power input for each hub.
We looked at how SD cards were inserted—you'd be surprised how many don't work unless they're inserted upside down! 
We also noted the cord length, as shorter cables limit your options when positioning the hub around your laptop or tablet. Worst case, a short cable causes a hub to dangle from a tablet whose USB-C port is mounted toward the top.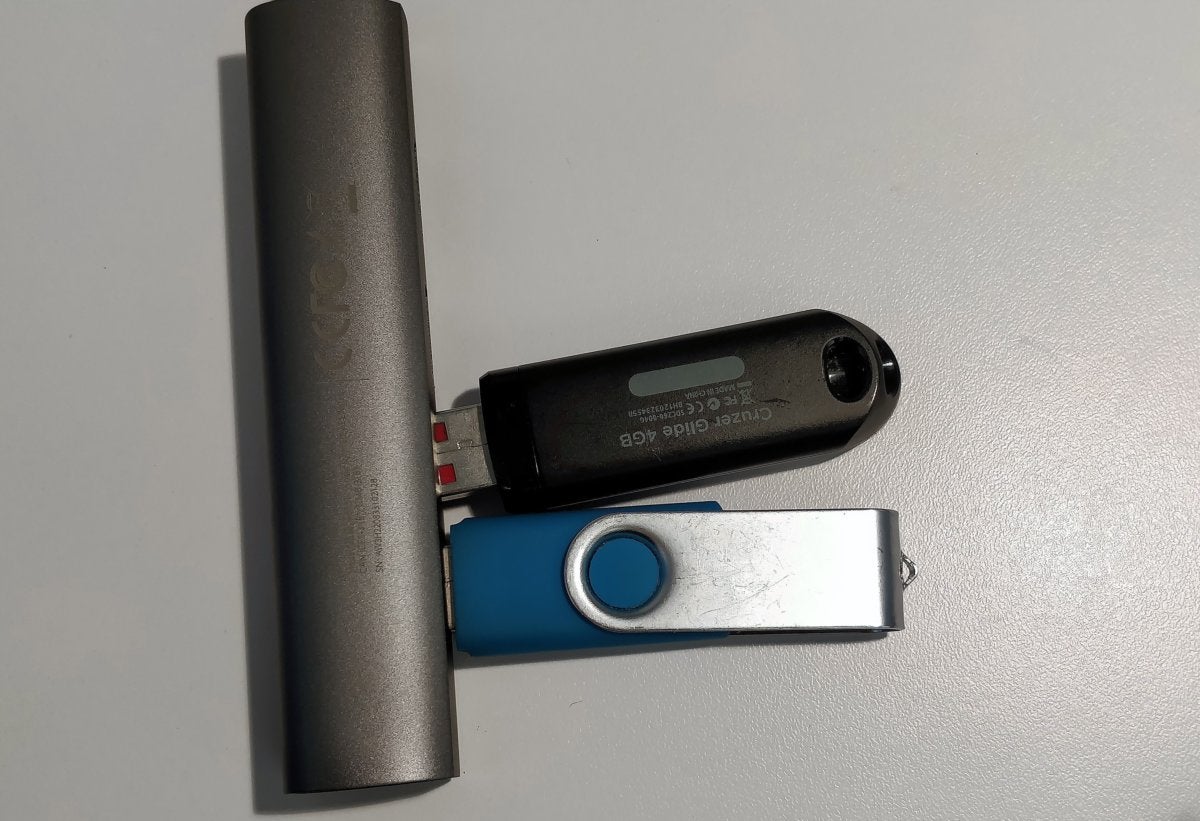 After testing about a dozen USB-C hubs, we can confirm that some no-names perform just as well as their more well-known counterparts, and for less money, too. One thing to keep in mind: Because price is so critical to our recommendations, know that some of the prices may change as manufacturers offer sales. Therefore some hubs we didn't recommend primarily based on price could become more purchase-worthy. 
FAQ
---
1.
What is the difference between a docking station and USB C hub?
A docking station and a USB-C hub serve similar purposes—extending the range of ports available for a laptop—but they aren't entirely the same.
USB-C hubs are generally more compact and portable port expanders. They come with a few ports which are mostly USB-C or USB-A ports, but higher end hubs come with SD Card slots and HDMI or DisplayPort inputs as well. USB-C hubs are designed to be small and easy to carry around with you but require power to be drawn from a laptop itself.
Docking stations on the other hand are larger and designed to be more stationary. They are meant to help turn your laptop into a desktop replacement. In terms of available ports, they come with everything a USB-C hub has and more. This includes connections for external monitors, Thunderbolt 4 ports, and Ethernet ports, among others. They are also powered via a power outlet allowing for all connected devices to be powered directly from the docking station.
2.
What is the difference between USB-C and Thunderbolt?
Both USB-C and Thunderbolt ports are universal in that the same input can be used for both, but they are not exactly the same. USB-C input ports allow for data transfer rates of up to 10Gbps and power charging. Thunderbolt ports allow for data transfer rates of up to 40Gbps, power charging, and video output up to 4K resolution.
3.
Why do USB-C hubs get so hot?
USB-C hubs can get warm or even hot while using them to transfer data or charge devices. This is because the electronic components and circuitry within hubs build up heat during use. Depending upon the hub's material, heat can become trapped inside the hub leading it to become hot to the touch.
If you are concerned about your hub becoming too hot during use, you may consider purchasing a hub made from metallic parts, such as aluminum, so that heat can more easily dissipate as it builds up.